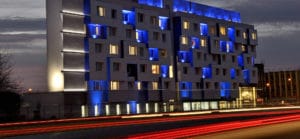 Institut Mines-Telecom Business School provides first-year students with accommodation on campus or nearby.
The school cannot accommodate all its students. Priority is given to 1st year students, students from our partner institutions (double degrees and academic mobility) and international students arriving from abroad.
Discover virtually the student accommodation and find out more about the association that manages student housing: Maisel.
Depending on your nationality, you will need a valid passport and, in some cases, a visa for international mobility.
European and Schengen students do not require a visa to enter member states' territories and do not need a passport if they possess a valid identity card.
Non-European students planning to come to France must have both a passport and a visa. You can apply for a visa at the French embassy or consulate in your home country. Begin the application process as early as possible, as some documents may take a significant amount of time to be issued.
For more information about applying for a visa to study in France, please visit the France Visas website.
CAUTION: If you need a passport, ensure that it remains valid for the entire duration of your stay, or even longer if possible.
Students from the European Economic Area must apply for a European health insurance card from their home country's health insurance office before they leave.
International students from other countries must register with the French Social Security system as soon as they arrive in France: Registration. French health insurance, provided by Sécurité Sociale (Ameli), is of a very high standard, and reimburses a portion of medical expenses for a basic contribution. It is compulsory for non-European students (Ameli information).
In addition, all students can take out a private insurance policy covering all medical risks, with no price restrictions.
Covers damage to your residence as well as your belongings. Each school or country has its own specific requirements. Be sure to inquire thoroughly.
It is mandatory for all students and covers physical and material damages caused to third parties during their studies, internship or in a private context. 
It provides compensation for the damage you cause to the victim. This insurance may already be included in another insurance policy (home insurance for example).  Check to avoid duplication.
All students must be registered with the general French social security system (CPAM) via the dedicated website (more information will be available soon).
If you are an EU student, you will need your European Health Insurance Card (available on your exchange).
If you are a student from Quebec, you will need to provide form SE 401-Q-106.
Once you have enrolled at Institut Mines-Télécom Business School, you must activate your electronic student account, which will give you access to the IMT-BS student messaging system, an electronic version of your certificate of enrolment, and online courses and documents provided by our teaching staff.
You can activate and access your account on the Institut Mines-Télécom Business School's SI étudiant (OpenPortal) website, under the heading Espace numérique de travail.
Every semester, the International Relations and Development Department (DRDI) organizes welcome days for international students, usually in September and January, as well as international events at the school.
These are great opportunities to discover the campus and the town of Évry-Courcouronnes, and to meet other international students.
Every year, the student associations organize an integration week or weekend, usually before the start of classes.